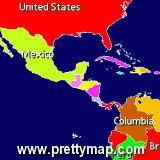 PrettyMap & PrettyEarth

PrettyMap is a powerful, reliable and fast GIS engine for PDAs and smartphones. The PrettyMap-powered brandable mapping software that is currently available for the Palm and Windows Mobile platforms lets you view vector and raster maps and images (such as country boundaries, cities, rivers, buildings, roads, satellite photos, digital elevation models and topographies), search in geographically-referenced data, visualize and analyze spatial information, download current weather reports and forecasts, display weather maps, extend your knowledge by taking an educational quiz, edit your own simple maps and much more.
Features include (see also screenshots):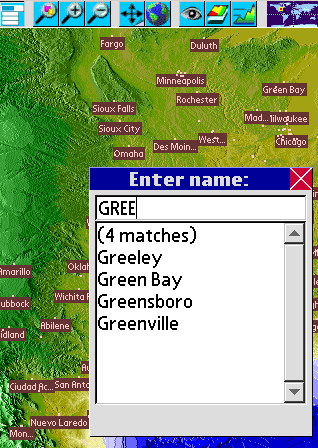 support for vector maps (points, lines, areas)
support for raster maps (terrain elevation and bathymetry, images, symbolic)
handles multi-attribute data associated with vector map objects
displays maps of various planets
supports GPS, logging GPS locations, "follow GPS" mode, WiFi wardriving and export to KML/GPX
GPS fleet tracking service: PrettyMap can regularly report locations so that you know where your fleet is
displays current weather maps, detailed weather reports and forecasts (requires Internet connection)
all maps are free:

political: country boundaries with country names, capitals, population sizes, ...
major cities with names, status, population ranks and classes, ...
comprehensive set of data for each country, based on the current information from The World Factbook
USA states with areas, population sizes, males, females, age, marriage, race, and household statistics, ...
major rivers
elevation data for Earth, Moon, Mars
satellite photos and images
lunar mountains, craters and crater chains, seas, lakes, swamps, valleys, ...
and many more!

spherical projection
relief and 3D elevation (DEM) view with vector map overlay
shows day and night regions, computes shadow length and sun/north orientation
various color schemes for elevation maps
user-defined elevation colors
zoom range from whole planet to meters
multiple, configurable vector map layers
data search for vector map databases
versatile quiz with teacher mode for vector map databases
bar charts and color-by option for numeric features in vector map databases
distance measurement
integrated user-defined locations (Points Of Interest) editor for work in the field
synchronization of map data (map with map, map with server)
sessions to quickly save/restore program state
adjustable water level for elevation data
numerous settings to customize the program


there are a few advanced services available upon request:

PrettyMap bridges the gap between the GIS world and relational databases, allowing you to create relations between maps, and edit related records (e.g. locations, people, property or building types, business categories, etc.),
it can synchronize user maps online with a dedicated PrettyMap server (useful in the field) so that many people can work together and update maps and data in real time,
the PrettyMap server provides authorized access to mobile clients,
maps can store information about who created and who last modified each record,
this solution implements well-known standards (e.g. postgis) that allow you to use existing GIS software to manage and visualize data both online (maps on web pages) and offline, on mobile devices and desktop computers.